Marlowe Theatre Installation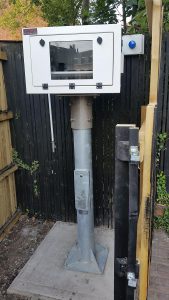 Practical AV have been busy with an innovative installation which proved to be a great success.
The Marlowe Theatre in Canterbury is situated on the banks of the River Stour. Is is a popular spot for  for both locals and tourists, by the theatre and the riverside café.  Taking on the role of Poet Laureate for Canterbury, Lemn Sissay wrote and performed "The Cantuarian" in Summer 2018. Practical AV was contracted to design and install an outdoor projection system to render the poem onto the ancient bridge across the Stour.
Director, Owen Finney explained how they achieved this. "Our recent outdoor projection installation at The Marlowe theatre in Canterbury presented some interesting challenges – we needed a secure, permanent, street-level projector enclosure which could be installed with minimum fuss in a busy public space. Working with VIZBOX we found the ideal solution.  Their steel enclosures are secure and extremely robust and allowed us to integrate an 8000Lumen laser projector, media player, control system and WiFi network in one environmentally controlled enclosure.  We found the Vizbox team to be both knowledgeable and flexible in helping us put together the enclosure design, and the end results were fantastic.  The people of Canterbury get to enjoy the lightshow, with the AV gear secure and out of sight in the background – just as it should be."